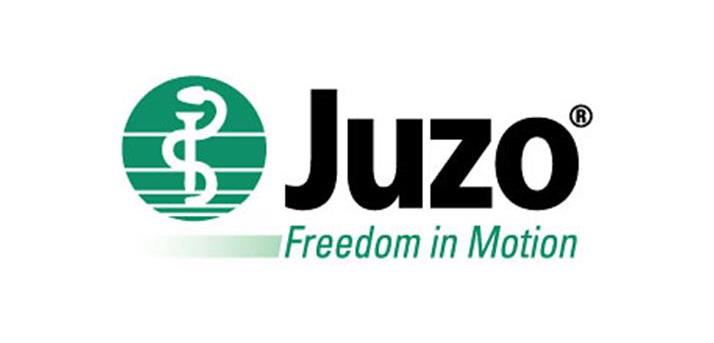 Juzo
Compression Garments For Lymphedema And More: Sleeves, Stockings, Leggings, Gloves, Gauntlets, Support Hose, Socks, Wraps, and More
Juzo takes an uncompromising approach to making quality products for lymphedema, edema, and other medical conditions. Knowing that most people who need compression garments have to wear them every day Juzo has three basic standards for all of its compression garments: comfort, quality, and therapuetic effectiveness. Having developed a well-known and respected name throughout the healthcare industry, Juzo makes products that treat lymphedema and acute and chronic edema, as well as related venous insufficiency.
Since its founding in 1912 by Julius Zorn, Juzo has been gathering feedback from medical professionals and patients. With that knowledge Juzo makes comfortable, technologically advanced, and effective compression products for the treatment of lymphedema, chronic edema and venous conditions.
From the beginning, with its true passion for helping people, Juzo has led the industry in product innovation and customer satisfaction. With manufacturing facilities in both the United States and Germany, Juzo continues the tradition of making high quality products that help thousands of people feel better about their health and their lives.
Key moments in Juzo's history include:
Juzo was the first manufacturer to knit medical compression stockings, instead of weaving them (in 1919)
Juzo introduced seamless compression stockings (in 1951)
Juzo began making latex-free compression stockings (in 1962)
Juzo USA began making products in the USA (in Ohio, in 1980)
The expertise and quality craftsmanship of Juzo is evident in their products, and features:
Latex-free construction (all Juzo garments are made without latex)
Lycra materials (most of the Juzo compression garments are made with wear-and-tear resistant Lycra)
Covered thread construction (the exclusive Juzo FiberSoft manufacturing process wraps each compression fiber)
Ease of care (Juzo garments can be machine washed and dried)
Perfect fit (Juzo compression garments feature easy-fit off-the-shelf sizes)
When you choose from our large selection of Juzo products we know you'll agree that Juzo compression garments give you the freedom to make the most of every day!
Please note that Juzo is a registered trademark of Julius Zorn, Inc.
Our large selection of Juzo products includes:
Juzo compression gauntlets and gloves
Juzo compression arm sleeves
Juzo compression stockings (knee high and thigh high)
Juzo compression panty hose / support hose
Juzo compression leggings
Juzo compression wraps
Juzo SoftCompress bandage and compression wrap liners (for arms, legs, and chests)
Juzo compression socks
Juzo SoftCompress short stretch compression bandages
Juzo SoftCompress pads (for elbows, knees, hands, breasts, and genitals)
Juzo Slippie donning devices (for arm sleeves and compression hose)
Juzo Adhesive lotion (which helps keep compression garments in place)
Some of the more popular Juzo brand products includes:
Juzo Soft compression garments
Juzo Soft Seamless compression garments
Juzo Expert compression garments
Juzo Flat Knit custom compression garments
Juzo Circular Knit custom compression garments
Juzo Dynamic compression garments
Juzo Basic compression stockings
Juzo Power Comfort compression stockings
Juzo Power Vibe compression stockings
Juzo Power Lite compression stockings
Juzo Assist compression stockings.