EdemaWear - A Game Changer
by DeLana Honaker PhD, OTR, CLT, FAOTA
EdemaWear vs Traditional Stockinettes
Over the last four months, I have had the opportunity to use EdemaWear Compression Stockinettes and I have to say, in comparison to current tubular stockinettes on the market, the EdemaWear Compression Stockinettes are a game changer. Most tubular stockinettes provide light compression (about 10 mmHg) and I've often used these tubular stockinettes with patients after manual lymph drainage while we waited for their short stretch bandages kit or compression wraps such as Circaid Reduction Kits or Solaris ReadyWraps to come in. I often continued to use the tubular stockinettes as the first layer under the short stretch bandages or the compression wraps. I liked the tubular stockinettes because I could cut to the desired length and it was easy to layer a shorter length (and sometimes smaller circumference tubular stockinette) for increased compression for trouble spots (i.e.: ankles or dorsal side of the foot) over the extremity's full length. But I didn't like that tubular stockinettes only provided effective light compression at the greatest circumference the extremity and the remaining length would end up creating vertical folds under short stretch bandages or wraps in the smaller circumference portions of the extremity such as the ankle (this was also true of the stockinettes that were included with the compression wraps). In addition, using tubular stockinettes often created higher compression folds at the ankle, knee or elbow, which increased risks for pressure sores.
EdemaWear - A Better Alternative
In my search for a better alternative, I came across EdemaWear Compression Stockinettes at Bandages Plus and have been using them with excellent results with my patients and even for myself and my friends.
Contour Shaping and Continuous, Consistent Compression
One the best features of EdemaWear Compression Stockinettes is that its technology acts in a "shrink wrap" fashion, meaning that the stockinette shapes itself to the extremity's contours and provides continuous and consistent 15-20mmHg compression throughout the extremity despite varying circumferences.
Using EdemaWear Compression Stockinettes
I have mild to moderate chronic venous insufficiency and on a typical day will experience mild edema from about mid-calf through my ankles. I slip on a pair the size small EdemaWear, which are 22" in length and run from my MTPs (just below the base of the toes) to about one to two inches below my knee crease. What I find fascinating is that while there may be some small folds at the ankle (or elbow on the upper extremity) when I initially put them on, over the first hour of wear the stockinette's technology pulls smooth the folds and this technology ensures consistent compression regardless of varying circumferences of the extremity. As a result of this feature, I've learned to keep the stockinette below the toes and away from the knee crease (and for my patients who are wearing the stockinette on an upper extremity, to keep the stockinette about an inch from the wrist crease) as the stockinette will tighten to conform to those creases and can get too tight and induce increased edema above the knee or in the hand.
Fuzzy Wale Compression Technology
The best feature of the EdemaWear Compression Stockinette is the Fuzzy Wale Compression. The stockinette is composed of vertical or as stated by the manufacturer, "longitudinal compression via the fuzzy wale and Lycra corduroy-like elastic fiber material". Over time (usually within the first hour), these corduroy fibers press gently into the skin creating 'cornrow' furrows in the skin enhancing lymphatic drainage. I certainly knew that within just 3-4 hours, my edema was gone when I wore the EdemaWear stockinettes but more importantly, this feature has greatly improved the success of manual lymph drainage on all my patients who are wearing the EdemaWear and I definitely see a difference in the manual lymph drainage between those patients and the ones who are not wearing the EdemaWear. I've had phenomenal success using EdemaWear with patients with all stages of secondary lymphedema (upper and lower extremities) and with patients with chronic venous issues.
Case Study
In a particular case, EdemaWear has really helped me make a breakthrough in reducing the swelling in one of my patients with Stage 3 Lymphedema secondary to long term chronic venous insufficiency. I began to seeing Janet in early June and she had an open seeping wound as well as several severe fibrotic patches as can be seen in this picture taken on 6/9/17: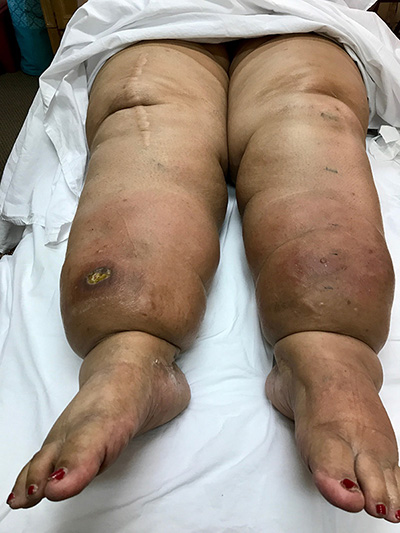 We began using tubular stockinettes for the first few sessions until we received her full leg Circaid Reduction Kits; not surprisingly we saw excellent results with these reduction kits but despite consistent manual lymph drainage, there was remained a distinct difference between her right leg and her left as seen in this photo on 7/3/17: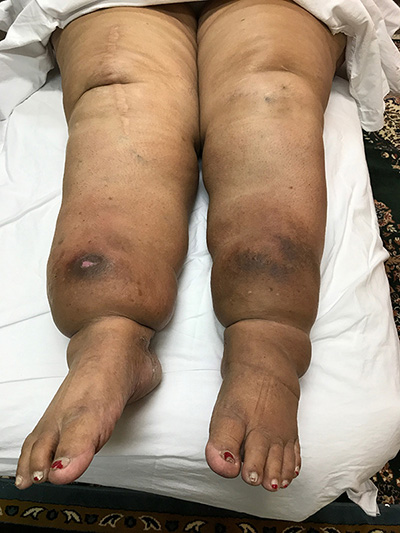 It's at the point, I suggested we try the EdemaWear on the right leg under the reduction kit. The very next day, a significant difference could be seen; lymphatic fluid could easily be seen in the top layers of the skin and easily manipulated. We continued to use the EdemaWear and on 8/13/17, I measured Janet's legs and overall she's lost 41% of the fluid in her legs and we continue to see excellent progress.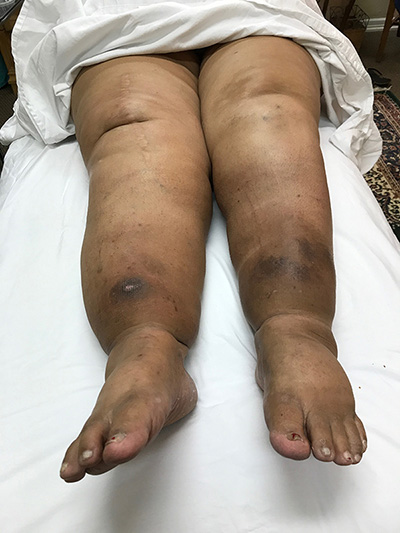 Other Great Features
A few more features about the EdemaWWear Compression Stockinette are that like tubular stockinettes, it can be cut to the right length, is easy to wash (I recommend in cold on normal or delicate cycle and air dried), and is a great alternative to typical tubular stockinettes in being cooler to wear in hotter climates. My only complaint about the EdemaWear is that it only comes in 'clinical' white with a colored stripe (indicative of the size it is); I would love to see the manufacturers produce light and dark flesh color EdemaWear Compression Stockinettes.
Have You Used EdemaWear Compression Stockinettes?
As I noted in my title, I believe the EdemaWear Compression Stockinettes to be a game changer for many patients. Please let us know your experiences by visiting the item page and clicking on "Write a review". You will be helping others to better understand their options in effective treatment of their edema and other venous conditions.
Author's Note
In full disclosure, I was asked to write this blog post about the EdemaWear Compression Stonickinette, but I have received no compensation from the manufacturers or from Bandages Plus.
---